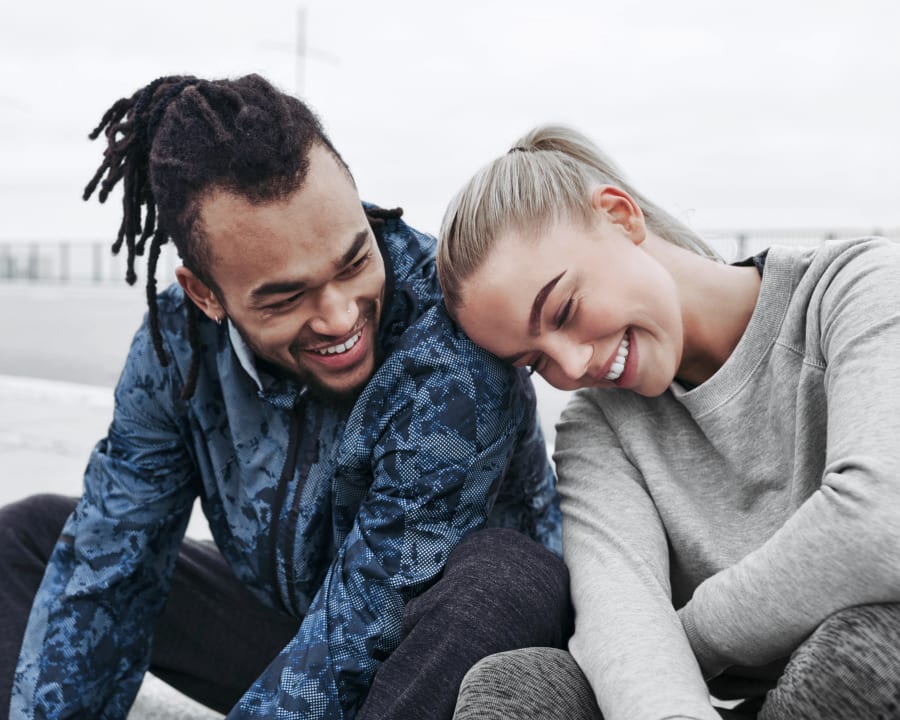 Brighten Your Smile
Tooth discolouration is common among adults, often resulting from imperfect oral hygiene habits, dietary choices or side effects of certain medications.
Although this is a natural process, tooth discolouration leaves many individuals feeling embarrassed, and reluctant to smile openly. 
Fortunately, professional teeth whitening can be an effective way for many people to clear away the dulling effects of staining and reveal a brighter, whiter smile they are proud to show off.
At Brush Dental Clinic, we offer Zoom! in-house teeth whitening to brighten patients' teeth in just one visit, or take-home whitening treatments that you can use while you work, sleep or relax in the comfort of your own home.
If you're unhappy with your smile, speak with our team. We can help you determine if teeth whitening is right for you.
Why Teeth Darken
Over time, teeth gradually become more absorbent and vulnerable to staining from food and other substances. The darker tissue of your teeth (the dentin) can become more visible as the outer layer of enamel is worn away.
Teeth can also become stained or discoloured due to the dark pigmentation of many common foods and beverages. Coffee, tea, berries, soy sauce and turmeric are all notorious for staining teeth.
Today, more and more people are turning to professional teeth whitening to help brighten teeth and reverse the effects of food and tobacco stains.
When Whitening Won't Work
Whitening treatments are more effective on some types of stains than others. For example, whitening solutions have a difficult time removing brownish or greyish stains.
These products also are not as effective on pitted or badly discoloured teeth, or on restorations such as crowns, bridges, bonding and composite fillings.
For individuals experiencing tooth discolouration that cannot be effectively treated with professional whitening, porcelain veneers or dental bonding may be more appropriate.
Things to Consider When Whitening Your Teeth
When it comes to achieving a brighter smile, the products you put on your teeth should be taken into consideration. Safe and effective teeth whitening can be achievable with the right types of whitening agents, but be careful, there are harsh products out there that can cause damage to your teeth. Our dental professionals use Zoom! in-office and take-home kits to help patients achieve a brighter smile that they can be proud of as safely as possible.
Here are a few of the other things you'll want to consider before beginning your teeth-whitening journey:
Zoom! Your Way to Whiter Teeth
Help Reduce the Effects of Staining & Reveal Your Brightest Smile
Zoom! whitening treatments at Brush Dental Clinic use a combination of professional strength whitening gel and low heat LED technology. This dual approach helps patients achieve a whiter smile while minimizing tooth sensitivity that can often result from whitening treatments.
How Zoom! Works
Before beginning treatment, your dentist will perform a thorough examination of your teeth and gums to determine if Zoom! is the right cosmetic treatment for your smile.
If you are a candidate for Zoom!, a member of our team will begin by isolating the soft tissues of the lips and gums to protect them from the whitening gel, which is a pH-balanced hydrogen peroxide solution. Next, they will apply the gel to your teeth.
To activate the whitening gel, a specially designed, low-heat light that penetrates the teeth will be applied. During this process, the hydrogen peroxide in the gel attaches to stained molecules on the teeth, weakening them. This allows oxygen to enter the tooth enamel, and helps to make teeth appear lighter and brighter.
This twenty-minute process may be repeated two or more times in order for Zoom!'s whitening system to achieve the desired shade of white.
Treatment Options To Fit Your Lifestyle
In-office or take-home teeth whitening... it's your choice. At Brush Dental Clinic, our goal is to help you achieve a smile you are proud to show off. That's why we offer two treatment options – in our office with our dental team, or a personalized process you can do at home. Whichever you choose, you could soon be on your way to your new smile!
Personalized Take-Home Teeth Whitening
Looking to achieve professional results from the comfort of your own home? We can help you achieve a brighter smile simply by following our at-home whitening process. We will start by making impressions of your mouth and creating custom whitening trays. Then you simply apply a whitening gel to your trays and wear them according to the directions supplied. At the end of the treatment period, you should notice that your teeth appear visibly whiter.